Powdered Organic Fertilizer Production Line
Get the latest price? We'll respond as soon as possible(within 12 hours)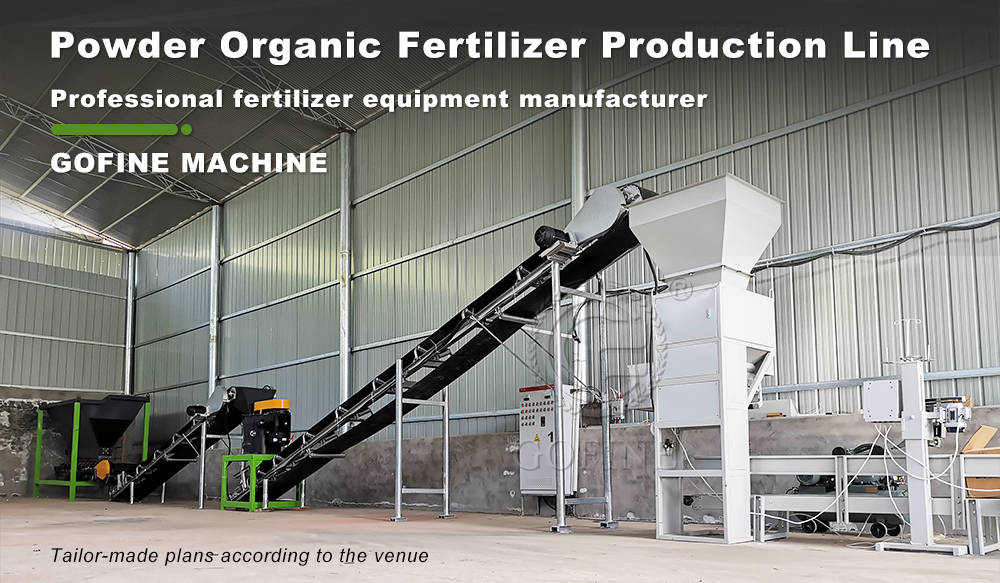 Introduction of Powdered Organic Fertilizer Production Line
The production line for powdered organic fertilizer is a complete set of automated equipment used in the production of powdered fertilizer. It can process organic waste or raw materials into powdery organic fertilizer products through a series of processes such as fermentation, crushing, mixing, and drying. This production line is extensively used in agriculture, gardening, environmental protection, and other related fields. The powder production line can also produce powder materials such as inorganic fertilizers, compound fertilizers, flower pot nutrient soil, microbial fertilizers, and slow-release fertilizers. It the soil environment and increases crop yield and quality.
Feature of Powdered Organic Fertilizer Production Line
1. Sufficient nutrients: Powdered organic fertilizer is rich in organic matter and nutrients, such as nitrogen, phosphorus, potassium, trace elements, etc.
2. Uniform fertilizer effect: It can be spread on the soil surface or evenly mixed in the soil to ensure an even distribution of nutrients.
3. Fast release of nutrients: Powdered organic fertilizer can release nutrients quickly and effectively, making it easier for plants to absorb and utilize, and improve the fertilization effect.
4. Improve soil: It can improve soil structure and texture, increase soil permeability and water retention, and facilitate plant root growth.
5. Easy to transport: Compared with granular fertilizers, powdered fertilizers are smaller in size, stable in accumulation, and easy to package and transport.
6. Protect the environment: Powdered organic fertilizer is made of natural organic matter and does not contain harmful substances, reducing the negative impact on the environment.
Working Process of Powdered Organic Fertilizer Production Line
The production of powdered organic fertilizer usually requires the following production processes:
1. Raw material processing: The collected organic raw materials, such as animal manure, plant straw, food waste, and other materials, are crushed and mixed for pre-processing.
2. Fermentation: The processed materials are sent to the fermentation area, and a variety of fermentation equipment such as crawler turners, wheel turners, and fermentation tanks can be selected according to size and production capacity requirements.
3. Crushing and mixing: According to the fineness of the fermented organic fertilizer particles, the crushing and mixing process is carried out to obtain uniform powdery fertilizer.
4. Drying: Dry materials with high humidity, dry them to reduce moisture and increase storage time.
5. Screening: It can remove impurities and larger particles and improve the quality of powdered organic fertilizer.
6. Packaging: The processed organic fertilizer is automatically packaged and accurately packaged according to the required weight.
Technical Parameter of Powdered Organic Fertilizer Production Line
| | | | | |
| --- | --- | --- | --- | --- |
| No | Production Equipment | Process | Power | Features |
| 1. | Fermentation device | Harmless treatment | 31-120kw | Fermentation of organic fertilizer |
| 2. | Compost pretreatment | Materials crushing and mixing | 5.5-50kw | Qualified powder raw materials |
| 3. | Sifting and Packaging scale | Final screening and packing | 1-30kw | Finished product |
Product Details of Powdered Organic Fertilizer Production Line