Overseas projects of rotary drum granulation production line run smoothly
2023-08-31
We are pleased to announce that the overseas project of the rotary drum fertilizer granulation production line has been successfully installed and put into use. This important progress has laid a solid foundation for our next step in expanding overseas markets. The rotary drum granulation production project brings together our many years of professional knowledge and experience. We are committed to serving our customers and providing them with high-quality, high-efficiency production line equipment to help them win in the fiercely competitive market.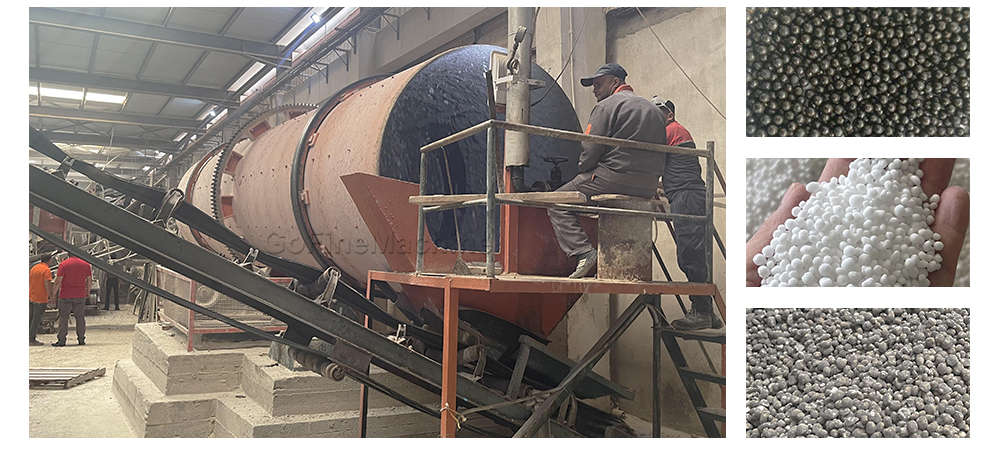 Advantages of drum granulation production line
The rotary drum granulation production line is suitable for the production of granules of various raw materials such as organic compound fertilizer, chemicals, feed, cat litter, etc. Among them, the drum granulator is one of the important equipment of this production line. This equipment adopts wet granulation method and is suitable for hot and cold granulation as well as large-scale production of high, medium and low concentration compound fertilizers. A certain amount of water or steam is used to adjust the humidity of the material, and then with the help of the rotating motion of the cylinder, the pressure between the molecules of the material is agglomerated into balls.
Advantages of drum granulation production line:
1. Efficient production: high production capacity, sustainable and uniform agglomeration of materials into spherical particles.
2. Flexibility: The raw material has wide applicability, and can be adjusted according to the granulation requirements of different materials.
3. Low energy consumption: It adopts a closed design to maximize the recovery and utilization of heat energy and reduce energy consumption.
4. Low failure rate: Equipped with advanced control system and automation technology, it reduces the failure rate.
5. High-quality finished products: The finished granules after granulation are uniform in size and quality is guaranteed.
6. Environmental protection: Reuse waste resources, improve environmental protection, and reduce waste emissions.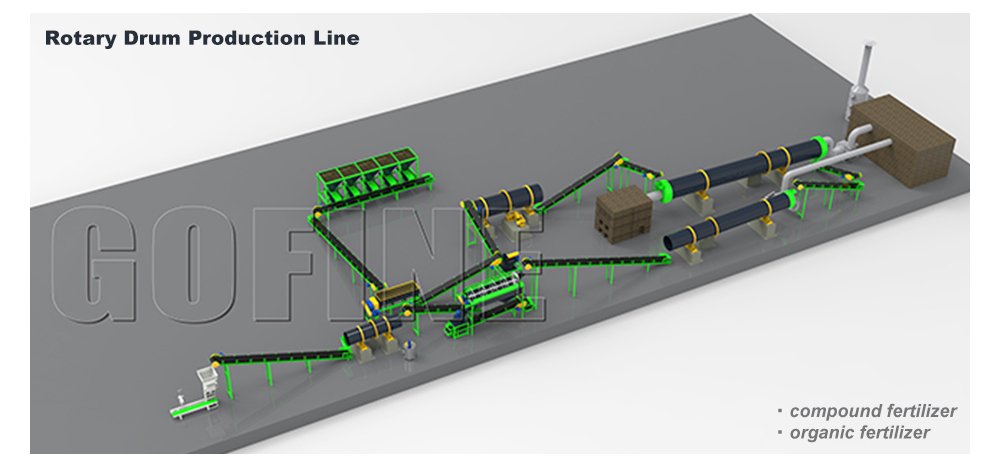 Production line process introduction
The rotary drum granulation production line is a fully automatic granulation production line, and the general process required is as follows:
1. Feeding system: Continuously and stably conveying materials to the next process, with a high degree of automation, a remote monitoring system, and reports can be printed at any time.
2. Crushing and mixing: It can quickly crush lumps, flakes and other materials into ideal particle size and mix them evenly.
3. Granulation: Process the mixed powdery material into spherical particles with uniform size. According to the different output requirements of customers, there are a variety of granulation equipment to choose from.
4. Drying and cooling: quickly remove the moisture on the surface of the pellets, increase the hardness of the pellets, and prevent the deformation or agglomeration of the pellets during transportation and storage. (optional for different materials)
5. Screening: Carry out quality stratification for the finished granules, and re-granulate the granules that do not meet the required size.
6. Coating: The powder or liquid coating process is used to process the surface of the particles to make the particles smoother, rounder and more beautiful, and it can also effectively prevent the problem of agglomeration.
7. Packaging: Automatic integrated equipment from weighing to packaging, equipped with measurement sensors to automatically compensate and correct errors. It is suitable for various materials such as powder and granular.
Gofine Machine adheres to the principle of "treat customers with honesty, create business with integrity" and provides customers with one-stop services such as project plans, customized design, and 24-hour after-sales service. We have gained the trust of many overseas customers. The projects we have completed are distributed in Algeria, Kenya, Turkey, Russia and other countries, and we have rich experience in overseas projects. Our technical team has focused on the production of fertilizer equipment for 35 years, paying attention to every detail, constantly innovating research and development, and striving to contribute to the promotion of agricultural development!
Get the latest price? We'll respond as soon as possible(within 24 hours)