NPK Stirring Teeth Compound Fertilizer Granules Production Line
Get the latest price? We'll respond as soon as possible(within 12 hours)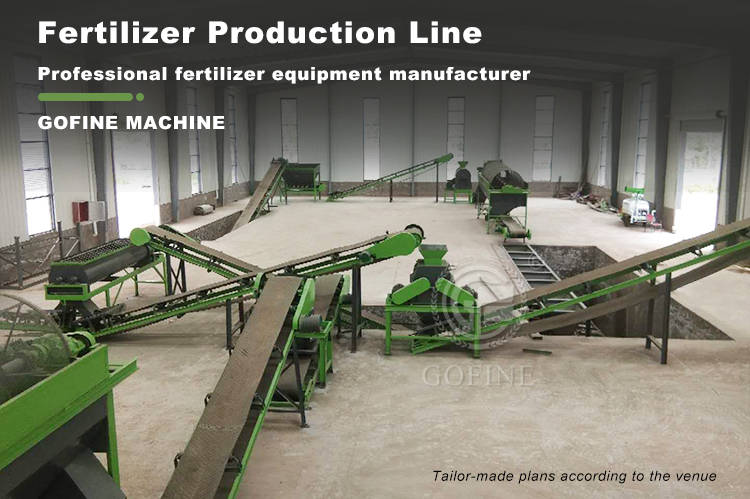 Introduction of NPK Stirring Teeth Compound Fertilizer Granules Production Line
The stirring teeth granulation production line is automated production equipment specially used to produce NPK compound fertilizer granules.
It mainly consists of crushing, mixing, granulating, drying, cooling, screening, packaging, and other parts.
The stirring teeth granulator adopts the granulation method to granulate materials through the granulation rotor.
It is suitable for a wide range of materials. For some materials that are difficult to granulate, such as straw, bacterial residue, wine residue, animal manure, urban sludge, humic acid, etc., they can be made into round and beautiful spherical granules after fermentation.
The NPK compound fertilizer mixing stirring teeth granulation production line meets the various needs of high-quality granular fertilizers in the agricultural field. Improve the scale and automation of pellet production to ensure the quality and balanced nutrition of each pellet.
Feature of NPK Stirring Teeth Compound Fertilizer Granules Production Line
1. Nutritional balance: The material undergoes a crushing and mixing process to ensure a more even distribution of nutrients and improve the fertilizer effect.
2. Uniform particles: The particles processed by the tooth stirring granulator are round and full, with consistent particle size.
3. High balling rate: The tooth stirring granulator has a high balling rate and a low material residual rate.
4. High production efficiency: The fertilizer production line realizes continuous and automated production, which improves production efficiency.
5. Wide adaptability: It is suitable for a wide range of raw materials and can be used in organic granular fertilizer, compound fertilizer granules, urea granules, NPK granules, etc.
Working Process of NPK Stirring Teeth Compound Fertilizer Granules Production Line
The stirring teeth granulation production line consists of multiple production processes:
First, the prepared principles are sent to the crushing and mixing place through a belt conveyor, and the materials are evenly mixed to ensure the nutritional balance and required ratio of the finished particles.
The mixed materials enter the granulating chamber from one end of the machine body; and are kneaded by the granulating rotor to agglomerate the materials into spherical particles. The granulated granules need to go through a drying and cooling process to make the finished granules more solid and convenient for subsequent storage and transportation.
The screening machine screens out the undesirable particles and sends them to the crusher through the conveyor for re-granulation. The processed finished particles are packaged efficiently and accurately through an automatic weighing and packaging machine. The production line realizes continuous automated production, which helps quality control and greatly increases production capacity. The ideal fertilizer granule production line can be customized according to customer needs.
Technical Parameter of NPK Stirring Teeth Compound Fertilizer Granules Production Line
| | | | | |
| --- | --- | --- | --- | --- |
| No | Production equipment | Process | Power | Features |
| 1 | Fermentation device | Harmless treatment | 31-120kw | Fermentation of organic fertilizer |
| 2 | Compost Pretreatment | Materials preparation | 5.5-50kw | Qualified powder raw materials |
| 3 | Further granulation | Fertilizer granulating | 15-100kw | Beautiful fertilizer particles |
| 4 | Dryer and cooler | Keep granules moisture | 15-120kw | Particle hardess |
| 5 | Siffting and packaging scale | Final packing | 1-30kw | Finished product |
Product Details of NPK Stirring Teeth Compound Fertilizer Production Line