Vibrating Inclined Separator Fertilizer Making Machine
Get the latest price? We'll respond as soon as possible(within 12 hours)
Introduction of Vibrating Inclined Separator Fertilizer Making Machine
Vibrating inclined screen separator is a kind of equipment commonly used in solid-liquid separation. It is suitable for various farms and is an ideal equipment for treating poultry manure, biogas slurry and residue. The equipment is equipped with a fully automatic control system to realize automatic separation of materials. The processed material is directly in the form of solid bulk, with a water content between 40% and 60%, and can be processed into organic fertilizer. The separated liquid can be reused and processed into liquid organic fertilizer. The harmless treatment of feces is realized, which is economical and effective.
Feature of Vibrating Inclined Separator Fertilizer Making Machine
1. High-efficiency separation: the special bevel design is adopted, and the material has a longer separation time on the screen surface, which effectively improves the separation efficiency
2. Less clogging: the sieve hole is not easy to be clogged, which reduces equipment downtime and maintenance time and improves production efficiency
3. Wide adaptability: suitable for a variety of particle sizes and viscous materials, with strong adaptability
4. Energy saving and environmental protection: Vibration driving mode can help materials pass through the screen quickly and reduce energy consumption
5. Easy to operate: simple structure, easy to repair and clean, reduce maintenance cost
Working Process of Vibrating Inclined Separator Fertilizer Making Machine
The vibrating inclined screen separator generates vibration force through the vibrating device installed on the top of the machine, and the screen surface adopts a special inclined angle design. When working, the material enters the vibrating inclined screen separator through the feed port, and the screen surface generates low-frequency and high-amplitude vibrations, so that individual particles slide down along the upper surface and gradually separate from the liquid. Larger solid particles are held back by the sieve holes, while smaller solid particles are further separated by the sieve holes. The separated liquid is discharged from the liquid outlet at the bottom of the inclined screen, and the clean liquid can be reused or discharged. The screened solid materials are collected and discharged from the solid outlet at the bottom of the inclined screen. This separation method is efficient and suitable for various solid-liquid separation scenarios.
Technical Parameter of Vibrating Inclined Separator Fertilizer Making Machine
| | | |
| --- | --- | --- |
| Model | Power (kw) | Capacity (m³/h) |
| X-20 | 4+2.2/3+3kw+60W | 20 |
| X-40 | 4+3+3kw+60W | 40 |
| X-60 | 5.5+4+3kw+60W | 60 |
Product Details of Vibrating Inclined Separator Fertilizer Making Machine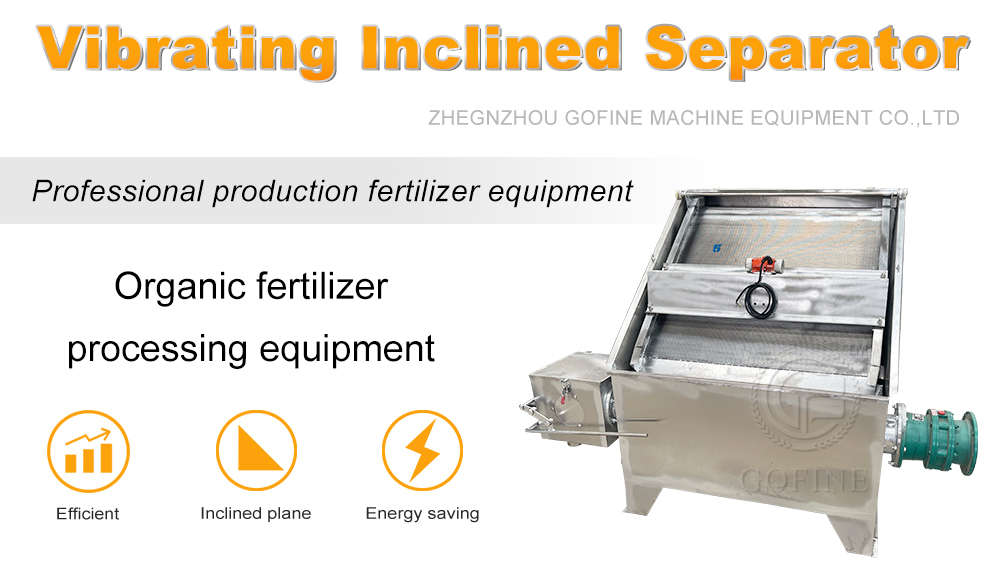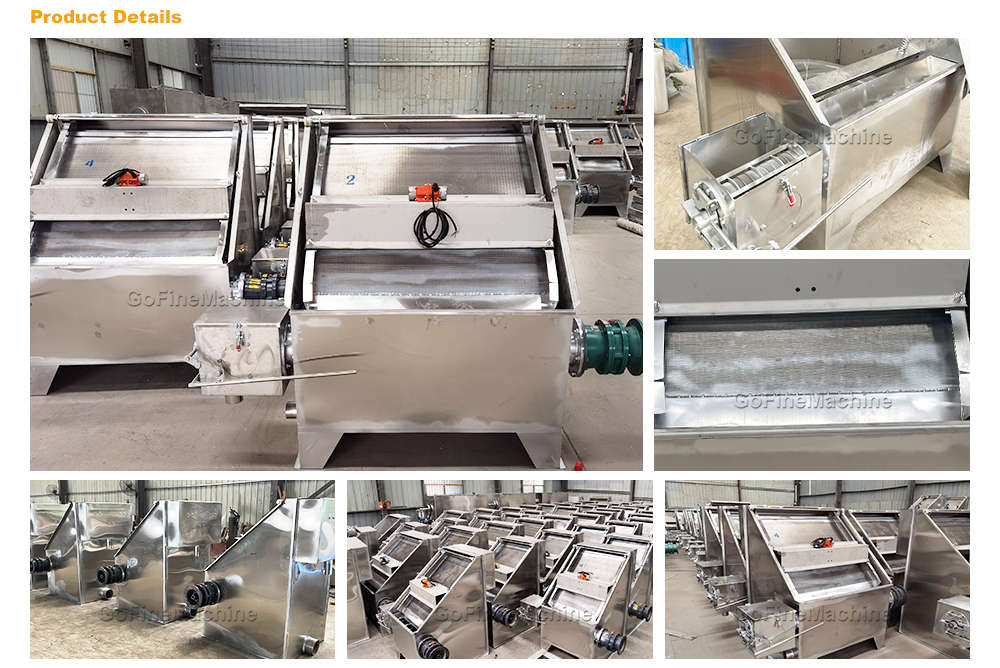 Packaging & Shipping of Vibrating Inclined Separator Fertilizer Making Machine